Map


Tony Pitch and all of his friends live in a super cool world called Pacific Hope Springs and Pacific Seaside. This is where everyone hangs out, goes to school, plays soccer, and plays some more soccer!!!


---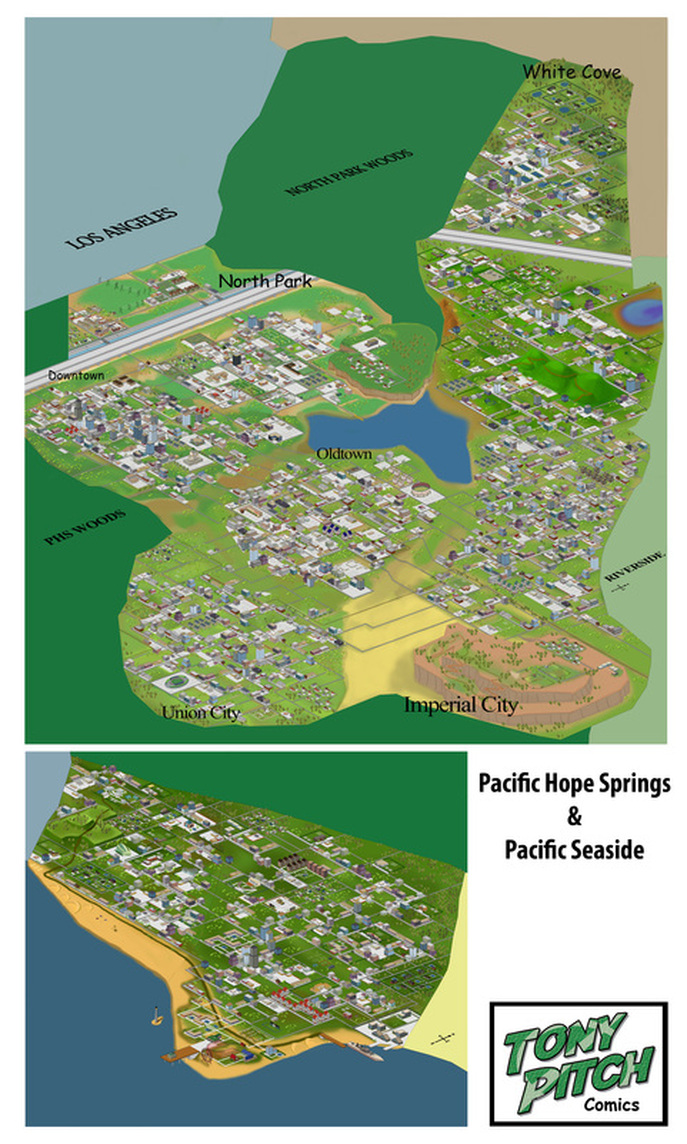 ---
---
Pacific Hope Springs
Pacific Hope Springs is located perfectly to allow commuters instant access to several options of travel – from the multitude of highways that make up the southern California freeway grid to the ever expanding mass transit and commuter rail options. Local residents enjoy the city because of its perfectly balanced location – just outside the congestion of Los Angeles, but retaining close proximity to big city amenities as well as wide and varied environmental settings all within a very short travel time from one another. Beaches, hiking hills and mountains, condensed cities, sprawling parks and open greenery, or desert oasis conditions all exist close together, allowing people to pick their favorite or sample from all of the above. In under an hour, you can reach the Pacific Ocean, the snow capped mountains of San Bernardino, or the deserts of the "Inland Empire."

Pacific Hope Springs is the central core of the county and contains a multitude of pleasant neighborhoods, weekend getaways, and a string of populations that have culturally-distinctive communities featuring an eclectic mix of independently owned specialty shops, cafes and knickknack stores. Pacific Hope Springs has an ever growing population of residents who wanted to escape the daily hustle and bustle of Los Angeles life. The populations range from working class to wealthy suburbs and private residential complexes, where new opportunities are available for all.

Quality schools, plenty of communal activities, and a friendly atmosphere have led to a growing population with plenty of leisure opportunities for visitors and residents alike.

Some of the better known attractions include The Golden State History Museum, The Modern Science Children's Museum, and the Splash-Down Water Park.


25 Great Things about Pacific Hope Springs:

1. Imaginative local plays at the community center.
2. Art shows and events at the Santa Maria Arts Center.
3. Hiking and biking in the surrounding hills.
4. Shopping at the Farmer's Market in Old Town.
5. Pinheads Duckpin Bowling - the best bowling alley around.
6. Amazing parks with even more amazing sunsets.
7. Outdoor concerts and summer film series.
8. The "Big Red Car" Old Town FREE trolley service connecting shopping centers.
9. Summer Adventure Camp for the kids.
10. Small town feel, with big city amenities.
11. Community service, including environmental restoration and dedicated nonprofits.
12. Top-notch schools with nationally recognized art and music programs.
13. World-class skate-park in Saratoga Heights.
14. Intertwining bike trails and walking trails connecting neighborhoods with downtown.
15. July 4th celebrations including: watermelon drops, face painting, tug-o-war, and water balloon wars.
16. Summer nature hikes.
17. Historic reenactments.
18. Summer Family Fun Festival.
19. Local theme parks include miniature golf, trampoline and Moon-bounce parks, go-cart racing and water slides.
20. Fun and safe monthly dances for teens at the community center.
21. Public art sculptures and collages around the town.
22. Museums for kids and adults alike.
23. Modern parks and sports facilities.
24. Scoring that first goal during an intramural game on a beautiful city soccer field.
25. Host of the upcoming AYL Junior Olympics
---
---
Pacific Seaside



Pacific Seaside is a beach community near Long Beach, California. Although it is just a short drive to either downtown Los Angeles or downtown Anaheim, Pacific Seaside maintains a small-town atmosphere with a sense of shared family values that touch every resident.

Local commerce relies heavily on tourism and features day time beach activities, local art projects and fairs, community activism, and evening music venues and homegrown eateries. Pacific Seaside has an intermingled history with the local Navy Base which showcases the USS Expectant Battleship tour and museum.

Pacific Seaside developed as a resort town first, located close to Los Angeles, but far enough away for rest and relaxation. The Ocean Promenade offers diverse shopping opportunities while South Port Beach features beautiful bluffs, sand dunes, and fishing opportunities. Captain's Pier was built to capitalize on the tourist trade and became a famous beach amusement park, offering games and rides and featuring the Pacific Ferris Wheel and Twister Roller Coaster. During World War II, Sterling Amalgamated built aircraft and navy materials, and later the Navy opened a permanent base near the East Bay suburbs.

Pacific Seaside features perfect weather – seemingly 72 and sunny year round. Ocean breezes maintain cool temperatures while low clouds and fog routinely blanket the city during mornings.

Pacific Seaside recently joined the California 'EcoFriend' Program, to improve environmental conditions through public-private partnerships, reduce pollution, restore native habitats, and provide refurbished green areas for residents to enjoy.

Pacific Seaside Transit provides local bus transportation services along with a free downtown trolley system that connects the beaches with shopping areas. The Pacifica Metro Rail Line ties these beachside communities to the greater Los Angeles Metro rail system. The 405 and 605 freeways connect Pacific Seaside with Long Beach, Los Angeles and other Orange County areas.

Pacific Seaside has begun building an intricate system of bicycle and hiking trails to help in its attempt to become one of the most ecologically friendly communities in southern California.


25 Great Things about Pacific Seaside:

1. The weather – not too hot, not too cold.
2. The beaches and all their summer fun activities.
3. Perfect west coast sunsets color the sky and reflect beautifully on the water.
4. Mysterious fog and mist that roll in off the ocean during the fall and winter.
5. Quick and easy commutes on the Pacifica Metro Rail.
6. Shopping at the Ocean Promenade.
7. Locale community art fairs.
8. The annual "Sand Castle Builder" contest.
9. The David Calhoun furniture and design museum.
10. The annual summer Shakespeare festival.
11. Summer beach concerts at Captain's Pier.
12. The Dunes at Surfers Beach – some of the tallest sand dunes in the country.
13. Community sand art projects at the Dunes sponsored by the Art Department at West Oaks University.
14. Public campgrounds for seaside camping.
15. Hiking and biking alongside the ocean boardwalk trail.
16. Rooftop miniature golf at Captain's Pier allows you to play in the sun or during the sunset.
17. The Pacific Ferris Wheel and Twister Roller Coaster along the boardwalk at Captain's Pier.
18. Small town beach community where everybody knows their neighbor's names.
19. Summer swim lessons and water safety education for the kids.
20. Quality schools that feature special focuses on art, music and the recently organized furniture building shop classes – sponsored by The David Calhoun furniture and design museum.
21. Beach cleanups, water conservation and other wildlife preserves.
22. The pinball museum at Flippers, where you can play games from the last 100 years.
23. Navy base tours alongside the USS Expectant and Freedom Sailor's Monument.
24. Daniel Sterling Memorial field and surrounding sports facilities.
25. July 4th celebrations on the water including: dunk tanks, musicians, volleyball tournaments, and nighttime fireworks accompanied by music.

---